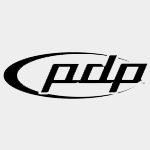 PDP (Pacific Drums & Percussion) – Batteries, pédales, stands et accessoires.
Pacific Drums and Percussion (ou PDP en abréviation) est une filiale de l'entreprise Drum Workshop, établie depuis les années 2000 et fondée à Santa Monica en Californie. Elle a été créée dans le but d'apporter à tous les batteurs un équipement de grande qualité pour tous ceux qui ne peuvent encore se permettre d'accéder au prestige des équipements de la marque Drum Workshop (DW).
La philosophie de PDP est d'intégrer dans leurs programmes de fabrication, les techniques misent au point dans leurs ateliers de custom shop DW et de les rendre accessibles à tous. Pour que cela soit possible, ils ont développé l'utilisation de machines numérisées pour diminuer les coûts et certaines étapes de production, tout en créant un produit de qualité, fabriqué en grande quantité.

Les gammes d'instruments
PDP Mainstage
Cette série entrée de gamme, s'adresse aux débutants confirmés, en quête d'un matériel de qualité. Elle est livrée avec des supports cymbales et un siège batteur.
PDP Concept Birch et Maple
La série Concept se décline en bouleau ou en érable. Cette dernière née est composée de fûts en 7 plis, excepté pour la caisse claire qui est en 10 plis. Elle bénéficie d'un bon nombre de spécificités issues des ateliers custom shop de recherche Drum Workshop dont voici l'énumération : bras de suspension pour toms DW-style, tirants True Pitch, fûts en tailles F.A.S.T., épaisseurs de cerclages adaptées aux mensurations des fûts. Les caisses claires sont équipées du déclencheur de timbre magnétique DW MAG et d'un timbre boutique-style en cuivre. Les crochets de grosse caisse sont moulés. La batterie est équipée des nouvelles coquilles doubles, au design rétro. Tous les fûts sont montés en peaux Remo.
Caisses claires PDP Specialty
Ces caisses claires sont parfaites pour une utilisation live et studio. Disponibles dans cette série, les modèles en 5×14″et 6.5×14″ en finition black nickel sur cuivre Ace et le modèle fût érable de 5.5×14″ SX Natural avec cerclages érable.
Caisses claires PDP Concept Series Bouleau et érable
Caisses claires 10 plis équipées d'un déclencheur de timbre magnétique DW MAG et d'un timbre boutique-style en cuivre. Elles possèdent également des tirants True Pitch (filetage serré).
Black Out Snares : Modèles tout érable, en finition noir « furtif » sur noir « Blackout ». Disponibles en 6×10″, 4×13″ 5×14″ and 6×14″.
Mainstage Snares : Caisses claires en fût acier avec parois fines pour une sensitivité optimale et un son métallique caractéristique. Idéal pour une utilisation live et studio. Ce modèle est disponibles en 6×10″, 6.5×13″ and 5×14″. Un modèle exceptionnel pour des batteurs de tous niveaux.

PDP stands, racks et accessoires
Hardware Professionnel avec grosse tubulure double embase, série PDP HH900, CS 900, CB900, SS900, SP500.
Rack de batterie de fabrication massive stainless steel, équipé de Clamps et de Memolocks en aluminium. Modèle extrêmement stable avec pieds caoutchouc antidérapants.
Accessoires : pédales simples et doubles de grosse caisse, perchettes, coussin de grosse caisse et siège batteur.

Les endorsés PDP
Visionnez les kits de vos batteurs préférés ici.
Aixa   |   Go Betty Go
Victor Alexander   |   Outkast
Angel   |   Dope
Chris Antonopolous   |   Independent
Billy Ashbaugh   |   Independent
Tré Balfour   |   Independent
Curt Bisquera   |   Independent
Jamie Borden   |   Phoenix
Brain   |   Independent
Brendan Buckley   |   Shakira
Patrick Caccia   |   Eric Sardinas
Chris Cano   |   Orson
Joey Castillo   |   Queens of the Stone Age
David Chavarri   |   Ill Nino
Jorge Chavez Llamas   |   Pito Perez
Chuck Comeau   |   Simple Plan
Damian Corniola   |   Independent
Mike Cosgrove   |   Alien Ant Farm
Fred Coury   |   Cinderella
Fred Dinkins   |   Educator
Espen   |   Hangface
Julio Figueroa   |   Independent
Mika Fineo  |   Independent
Brian Flenniken   |   Mad Caddies
Daniel Galluci   |   Cirque du Solei "Quidam"
Garrett Goodwin   |   Carrie Underwood
Andy Granelli   |   Darker My Love
Kerry Griffin   |   Independent
Ronnie Gutierrez   |   Independent
Hernan Hecht   |   Independent
Dave Hooper   |   Independent
Bobby Jarzombek   |   Sebastian Bach
Dan Lamagna   |   Suicide City
Adolfo « Fofi » Lancha   |   Sabado Gigante
Rick Latham   |   Educator
David Lauser   |   Sammy Hagar
Zach Lind   |   Jimmy Eat World
Alvaro Lopez   |   Solo Artist
Victor Loyo   |   Luis Miguel
Mike Luce   |   Drowning Pool
Jordan Mancino   |   As I Lay Dying
Maria Martinez   |   Educator
Billy Mason   |   Tim McGraw
Carter McLean   |   Independent
Meggers   |   The Casualties
Andy Mendoza   |   Independent
Leon Mobley   |   Ben Harper
Eric Moore   |   Suicidal Tendencies
Jamal Moore   |   Cee Lo Green
Cactus Moser   |   Juliana Hough
Jean Nadeau   |   Independent
Jordan Nuanez   |   LMFAO
Travis Owen   |   Artimus Pyledriver
José Pasillas   |   Incubus
Adrian Passarelli   |   Independent
Stephen Perkins   |   Jane's Addiction
Omar Phillips   |   Big Boi
Joe Pocaro   |   Independent
Justin Poree   |   Ozomatli
Cobus Potgieter   |   Independent
Dave Raun   |   Lagwagon
Dawn Richardson   |   Educator
Alexei Rodriguez   |   Prong
Hiram Rosario   |   Viza
Ed Roscetti   |   Educator
Tony Royster, Jr.   |   Jay-Z
Jaz Sawyer | Phil Lesh/Abbey Lincoln/Independent
Neil Sebba   |   Independent
Steve Sidelnyk   |   Seal
Blair Sinta   |   Melissa Ethridge
John Snider   |   Educator
Mike Snyder   |   Independent
Travis Smith   |   Independent
Nisan Stewart   |   Missy Elliott
Tony Thaxton   |   Motion City Soundtrack
Yael   |   Ugly Kid Joe
Brooks Wackerman   |   Bad Religion
Jon Wilkes   |   Independent
Josh Wills   |   Story Of The Year
Jiro Yamaguchi   |   Ozomatli
Zoro   |   Independent
Frank Zummo   |   Street Drum Corps